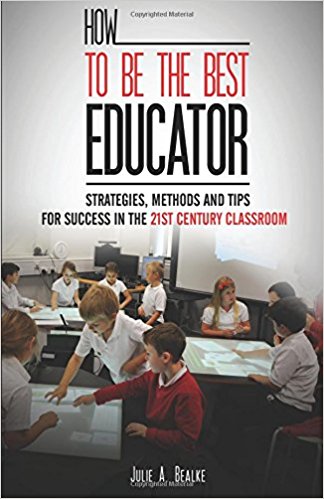 How to be the Best Educator : Julie A. Bealke
How to be the Best Educator: Strategies, Methods and Tips for Success in the 21st Century Classroom
For upper elementary to middle level educators, How to be the Best Educator provides checklists and overviews on collaboration, communication and organization.
Provided are easy, logical, and and classroom-tested practices from the first day of school to the last so teachers can have a successful first year and beyond. The book is divided into three sections:
How to be your best in the classroom, What the best lessons have, and How to best meet the needs of you.
These sections are developed by the author, Julie, who has nearly 20 years of teaching experience, has her masters degree in curriculum and instruction, degrees in general education and special education, and understands the challenges teachers face today.
While many topics are taught in college, one can not master the art of teaching unless in the classroom. One does need to understand their own self and the culture of the school to make a positive impact and be their best in the classroom; building relationships is the key to success.
Book Links
Website
Teacher's Group
Facebook
Twitter
On Amazon
More Great Reads: