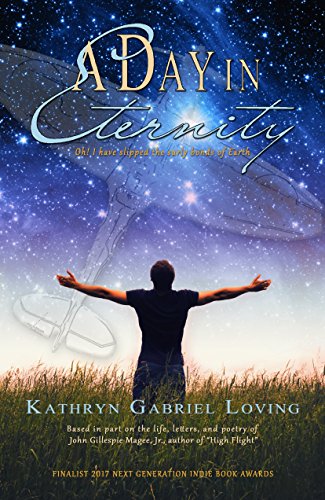 A Day In Eternity : Kathryn Gabriel Loving
A Day In Eternity
British pilot Anson Roe will ignore borders and strain relationships to land a career in Ag-aviation. But when he dreams of crashing his airplane in a remote corner of the world, all he can think of is the whereabouts of his girlfriend, Vivianne. He awakens at a small airstrip in "no man's land" Oklahoma, a year backward in time, suffering from apparent heatstroke and random amnesia.
Brought to his knees, he is rescued by World War II Spitfire pilot and poet, John Magee, who takes him in hand. As Anson Roe regains his memory, he makes a shocking discovery. That discovery forces him to look more deeply into his life, his love, and the prospect of his own death.
This novel in based, in part, on the life, letters, and poetry of the historical figure John Gillespie Magee, Jr., author of the famous sonnet, "High Flight." Anson Roe's story in the novel is also based on a real event.
A Day in Eternity was recently named a finalist in the 2017 Next Generation Indie Book Awards, Inspirational Fiction Category.
More Great Reads: