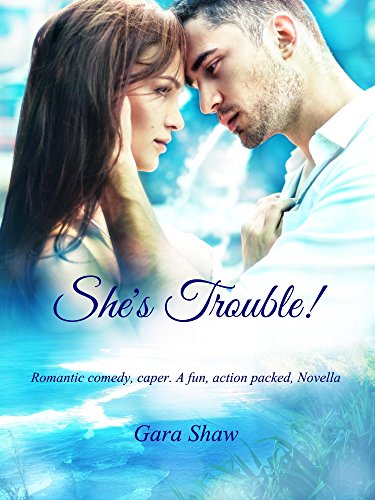 She's Trouble! : Gara Shaw
She's Trouble!
She's Trouble!
A Romantic/Comedy/Caper
Nicholas Steel, a top C.I.A. agent finds the worst assignment of his career is protecting a pampered young Heiress.
Desirae Stone, 21, sheltered most of her life and is now a restless woman/child with a wild streak. Her life is endangered when someone in Mexico begins using her father's property to smuggle drugs. The C.I.A. responds to a kidnap threat by assigning one of their agents as her Bodyguard. The handsome and charming agent, Nicholas Steel, experienced an instant dislike of his feisty charge…and the sentiment was returned.
The pair travels to Mexico posing as boyfriend and girlfriend. With one eye on Desirae, Nicholas intends to find which of her father's employees is double-crossing him. As Desirae and Nicholas' passionate dislike transforms into a passionate love, deception threatens to tear them apart. As the heat increases on all sides, the C.I.A. Agent realizes he will do anything, including risk his career and life for the woman he loves.
She's Trouble! A romantic comedy, caper. A fun and action packed, Novella.
Book Links
On Amazon
More Great Reads: