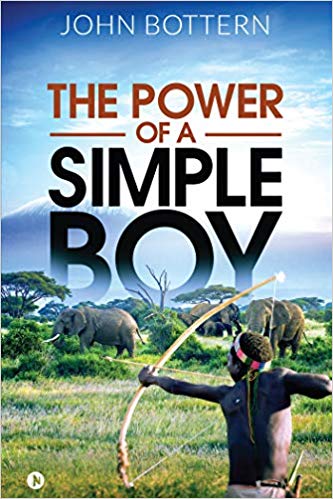 The Power of a Simple Boy : John Bottern

The Power of a Simple Boy
A heavily armed group of highly trained and experienced ivory poachers, led by Shetani, enter an African game park to kill a large herd of elephants – including Akili, their matriarch.
When Tuli, an experienced game ranger, is brutally murdered by Shetani, Tuli's sixteen-year-old son, Onkolo, soon realises that he must now defend the herd and face the poachers on his own.
Desperate to survive and armed only with a bow and arrows, Onkolo races to find Akili and her herd before the poachers do, and along the way establishes the most unexpected alliance. But will this be enough to ensure that he survives, and enable him to defend the elephants?
The odds are overwhelming: battling heat, thirst and fear, Onkolo faces dangers from predators as well as poachers. And he reluctantly finds himself in awe of Shetani, whose bush-skills surpass those of any other man he has come across – the very skills that enabled him to murder Tuli.
The savagery of animals in the wild, and the brutality that emerges from encounters with predators and poachers, are offset by scenes of tranquillity and the beauty of the African bush.
Book Links
Twitter
Linkedin
Goodreads
Amazon Author Page
On Amazon
More Great Reads: