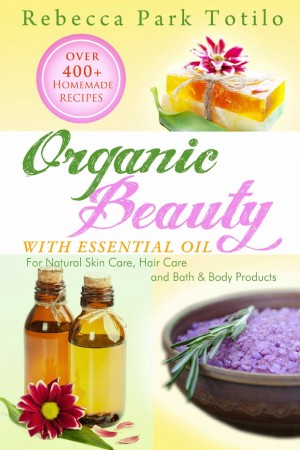 Organic Beauty With Essential Oil : Rebecca Park Totilo
Organic Beauty With Essential Oil
Looking for that perfect all-natural bath product? One that will keep your skin looking great, is appealing to smell, has actual therapeutic benefits, and doesn't break the bank? Well, here it is! S
weep aside all those harmful chemically-based cosmetics and make your own organic bath and body products at home with the magic of potent essential oils! In this book, you'll find a luxurious array of over 400 Eco-friendly recipes such as Exotic Patchouli Massage Oil, Zesty Banana-Lemon Foot Cream and Jasmine Bath Bombs filled with breathtaking fragrances and soothing, rich organic ingredients satisfying you head to toe.
Designed with the naturalist in mind, each formula draws from essential oils' well-known skin rejuvenating effects, showing you how to best care for your unique skin and hair type using all-natural botanicals.
Included you'll find helpful tips and customizable recipes – all with step-by-step instructions – so you can have the confidence knowing which essential oil to use and how much when creating your own body scrub, lip butter, or lotion bar!
Discover how easy it is to make bath treats like fragrant shower gels, dreamy bubble baths, luscious creams and lotions, deep cleansing masks and facials for literally pennies using only a few essential oils and ingredients from your own kitchen with Organic Beauty with Essential Oil.
Book Links
Website
Amazon Author Page
On Amazon
More Great Reads: