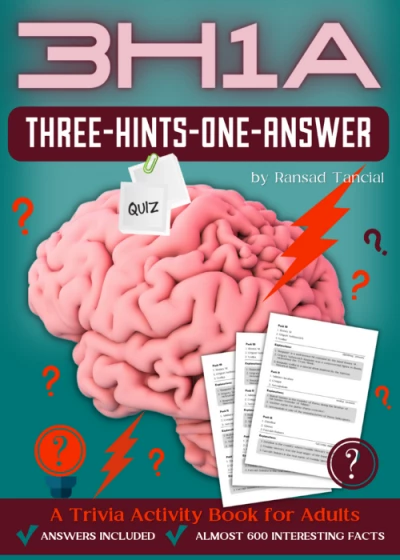 Quiz 3H1A : Ransad Tancial
Quiz 3H1A (Three-Hints-One-Answer) is a Trivia Challenge Book you've never seen before.
3-Hints-1-Answer (3H1A) is the most innovative type of quiz, the main feature being the fact that the 3 hints lead always to the discovery of the Answer. The beauty and at the same time the mystery of the game results from the close connection between the hints and the answer, many times appearing seemingly impossible, and confusing situations, but in fact, they are striking definitions. The current format is an evolution of the classic quiz/trivia based on the 1H1A (One-Hint-One-Answer) concept. But, as expected, progress made its presence felt in this segment as well.
In order to solve this quiz, you should start from the most evident or easiest hint. Example:
Pack 150
1.Rice in the wall
2.Seen from the Moon
3.The largest private car manufacturer in China
Answer: Great Wall
Explanations:
1. Rice was the secret ingredient for thousands of years, being added to the mortar, thus ensuring the durability of the Great Wall.
2. The Great Wall is one of the human-made structures that can be seen from the Moon.
3. Great Wall Motors is the largest private car manufacturer in China.
Pack 200
1. Hand of God
2. Religion
3. DM 10
Answer: Maradona
Explanations:
1. "The hand of God" was a handling goal scored by Diego Maradona during the Argentina v England quarter-finals match of the 1986 FIFA World Cup.
2. The Iglesia Maradoniana is a religion, created by fans of the late Argentine footballer Diego Maradona.
3. DM 10 is the official Brand of Diego Armando Maradona.
Pack 196
1. "Me At The Zoo"
2. The Diamond Button
3. Google 2006
Answer: YouTube
Explanations:
1. The first video uploaded to the YouTube platform was "Me At The Zoo".
2. The Diamond Button is the most coveted distinction offered by YouTube.
3. Google bought YouTube in 2006 for 1.65 billion USD.
…and more and more just like these.
What you will get:
200 packs of 3H1A and almost 600 facts about general knowledge and interesting information.

No spams, no duplicates, original and true information.
We challenge you to 3H1A. Gather your friends and start playing this new game. Are you still wondering whether or not to buy this volume? 
GRAB YOUR COPY TODAY
 and have fun at a PubQuiz with your friends! Who will win the next quiz?
Book Links
On Amazon
Amazon Author page
More Great Reads: