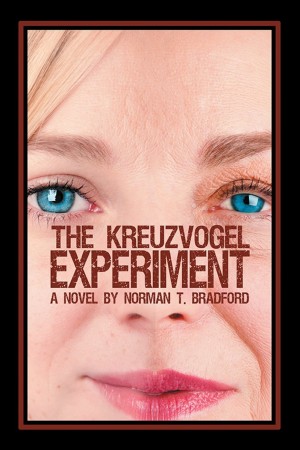 The Kreuzvogel Experiment
The Kreuzvogel Experiment is a fictional Sci-fi thriller about main characters, HOWARD 'Howie' BRICE, MIRIAM BERKOWITZ, and twins, RONALD and DONALD WHITEHEAD. They were part of a group infants born in April, 1936. They were secretly given an experimental growth serum by Doktor ERNST KREUZVOGEL, alias Doctor DAVID VOGELMANN. In the year 2016 at the age of eighty, they were still healthy and virile. They discovered however, they were being stalked and murdered, and their blood harvested and converted into a serum for the members of, Das Neue Dritte Reich, (The New Third Reich) a neo-Nazi organization.
The story is divided into four parts: Part I – 1934 Heidelberg. Doktor KREUZVOGEL, Professor of Experimental Endocrinology arrives at his laboratory. He has designed an experiment to retard the aging process. He has tested the experiment on primates and wants to test human subjects. The council members reject his request for funds. We meet JUTTA KOHLHEPP, his lab assistant and mistress. She is the daughter of MARTIN KOHLHEPP, the local Unterführer and head of the Gestapo. Jutta is pregnant with Ernst's child. Martin Kohlhepp has issued a warrant to the Gestapo for Ernst's arrest.
Part II – 1936 Chicago will introduce the three fathers of the main characters, ISAIAH BERKOWITZ, father of Miriam, WILLIAM BRICE, father of Howard, and AARON WHITEHEAD, father of twins, RONALD and DONALD WHITEHEAD. They become friends and business partners in Chicago's Douglas Park area.
Part III – The Summer 1951 – The entrance into young adulthood of our main characters, their love for one another and their initiation into an anti-Semitic and racist world.
Part IV – The Winter 2016 will pit their will to survive against the arch-enemy, Damian Mühlbach, hired assassin of Das Neue Dritte Reich. In a thrilling climax they overcome the evil threat.
Book Links
Amazon Author
On Amazon
The Kreuzvogel Experiment : Norman T. Bradford