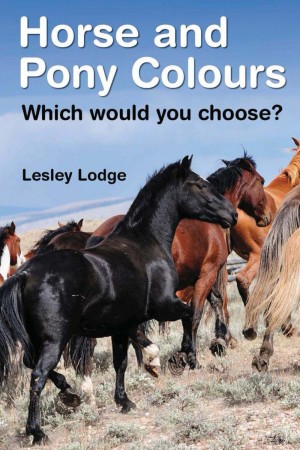 Horse and Pony Colours : Lesley Lodge
Horse and Pony Colours – Which Would You Choose?
A good horse is never a bad colour. This is very true.
But just imagine. If you had the chance to choose the perfect horse or pony with the colour you'd really, really like, what colour would you choose? There are an amazing fifty colours to choose from! This book – with colour photos – will tell you about all the horse and pony colours and their combinations and give you some examples. Then you can pick your favourite colour for your favourite imaginary horse or pony – and maybe make a second and third choice just for fun!
There are Palominos and Cremellos, Piebalds and Skewbalds, Blue roans and Strawberry roans, Sorrels and Chestnuts, Buckskins and Appaloosas and many, many more. Colourful horses from the film world, the racing world and the more everyday world appear in this book. There's Roy Rogers' Trigger, the talking horse, Mister Ed, The Lone Ranger's Silver, the white horse Shadowfax from Lord of the Rings – so clever he didn't need a saddle or bridle – and many more.
There's a chapter too on horses' markings – can you tell the difference between a blaze, a strip and a snip? Have you heard how horses change colour?
Horse and Pony Colours: Which would you choose? will tell you. There's a chapter too on genes and how they can determine colours.
Book Links
Website
Blog
Facebook
Goodreads
Amazon Author Page
On Amazon UK
On Amazon
More Great Reads: