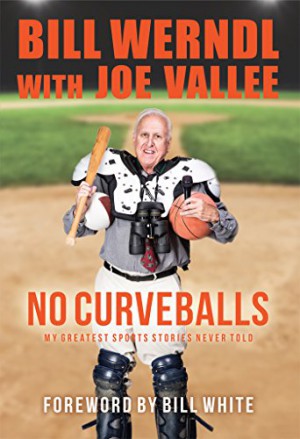 No Curveballs : Bill Werndl with Joe Vallee
No Curveballs : My Greatest Sports Stories Never Told
When you've amassed a career in sports spanning 50 years, you're bound to have some great stories, and Bill Werndl has plenty.
From his humble upbringing in Sharon Hill, Pennsylvania, to becoming the first full-time sports producer in Philadelphia news, to his ascension as one of San Diego's most popular sports talk radio hosts, Bill shares some of his most memorable and previously untold stories from a remarkable journey that was half a century in the making in "No Curveballs: My Greatest Sports Stories Never Told."
Bill's very first book covers it all: From his summers spent in Akron, Ohio as a youngster, when he answered sports trivia questions for root beer, to his very first professional interview with NBA legend Wilt Chamberlain, his time spent with the 1970s Philadelphia Flyers (aka the Broad Street Bullies), his work with Ourlad's Guide to the NFL Draft, an infamous encounter with broadcaster Howard Cosell, his impressions of a young M.C. Hammer, a run in with an angry Dan Dierdorf, his friendships with baseball greats Ted Williams, Tony Gwynn, Mike Piazza and Dick Allen, how he gave Major League Baseball Hall of Famer and Philadelphia Phillies great Mike Schmidt his first break in television, as well as the day he got body slammed by Eagles Hall of Famer Chuck Bednarik.
Bill also discusses his relationship with legendary Super Bowl-winning coach Dick Vermeil, his spotting career for the Philadelphia Eagles, ESPN and various other networks, including his "shortest day ever spent in Japan." Never one to shy away from giving an opinion, Bill also discusses the use of steroids in baseball, and his controversial take on baseball's handling of Pete Rose, the lack of passion in today's athletes, the night that ABC Monday Night Baseball missed an opportunity to break racial boundaries, and more! No Curveballs also features insights from the late, iconic Philadelphia Daily News sportswriter, Stan Hochman, Bill's fellow Loose Cannon radio co-host, Steve Hartman, and more!
Writer Joe Vallee (A Snowballs Chance: Philly Fires Back Against the National Media) was assigned the task of putting into words the no-holds-barred look at the life and times of one of the most diverse and accomplished personalities in the world of sports. Vallee, a former Philadelphia Phillies bat boy and one of the founders of the website Philly2Philly.com, is considered an authority on the history and inner workings of Philadelphia's often-maligned but beloved sports teams.
"No Curveballs: My Greatest Sports Stories Never Told" is a biographical, controversial, informative and always entertaining read. Bill wouldn't have it any other way.
Book Links
Facebook
Twitter
Amazon Author Page
On Amazon
More Great Reads: