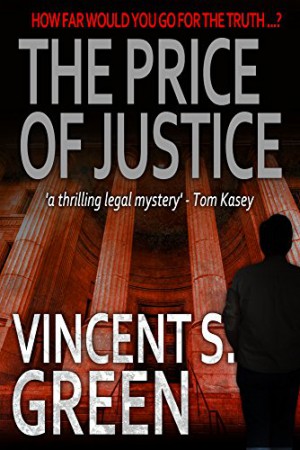 The Price of Justice : Vincent S. Green
The Price of Justice
At sleepy Fort Leavenworth, Kansas the commanding general's wife Bunny Harris is decapitated with the Arabic word for "dust" scrawled in her blood over the bed.
JACK GARRETT (40s), a Los Angeles entertainment lawyer and former special ops soldiers reports for reserve duty at the fort and finds his orders are changed and he is working for CAMERON WELLS (40s), an ambitious attorney who began her career in military intelligence.
Two days later military judge FRANK O'CONNOR (50's) is charged with the rape and murder of Bunny. He requests that Garrett defend him, and Garrett is placed on active duty.
Wells is put on O'Connor's trial to spy on Garrett. O'Connor admits to an affair with Bunny and that she enjoyed rough, painful sex including whipping and strangulation.
The CIA brings in PHILLIP RUBIE (50s) and his daughter SIMONE (20s). The pair kidnap Garrett's son then release him with a message to back off the case. Garrett and Wells are drawn closer over this incident and start to have a romantic relationship.
Evidence points to the general's involvement in war crimes by killing Iraqi POWs with a nerve agent called "dust." A reporter tells Garrett that he believes Bunny was killed with this nerve agent. Bunny's body is exhumed and she melts out of her casket.
The trial begins and the prosecutor receives a CD with Bunny and O'Connor at an S&M club where O'Connor pretends to cut off her head with a machete. O'Connor is offered a deal and refuses.
Simone tells Wells she has evidence of O'Connor's innocence. Rubie attempts to kill Garrett and Wells at the meeting, but Wells fights and subdues Rubie. Garrett tortures Rubie and he says that Wells knows who the real killer is.
Rubie is left to die but Simone finds him when he activates a GPS chip. His dying request is to kill them all. Simone decapitates the general and leaves a message written in Arabic: "Dust to Dust." O'Connor is released from jail, since it appears Bunny's killer is still at large. At a press conference with O'Connor, Wells and Garrett, Simone, disguised as a reporter, attempts to shoot Garrett and Wells. Simone is killed and authorities claim she is Bunny's killer.
Wells and Garrett return to California and start a new life. Garrett's son finds a sword in Wells' footlocker with blood and hair on it. The sword belonged to Wells' father and was given to him by Bunny. Wells confesses to the killing because the general discovered Bunny was having an affair with her father, and general sent him on a secret mission where her father was killed. Wells tells Garret to forget about what was found and go on, but Garrett can't. Garrett turns his back and walks out of the house.
Book Links
Website
Twitter
Email
Amazon Author Page
On Amazon
More Great Reads: