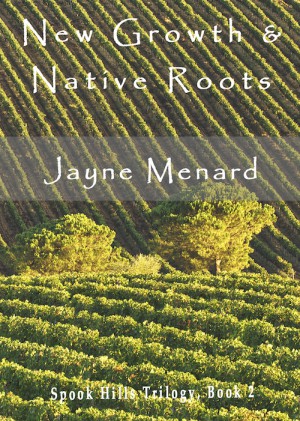 New Growth & Native Roots : Jayne Menard
New Growth & Native Roots
Former FBI agent, Mathew Heylen, is in his prime as he founds a vineyard in the Oregon wine country.  With the fields planted, handsome Mathew desires to find someone to share his life but his childhood fear of rejection stands in his way.  Moreover, old and new business with the FBI disrupts his life by pulling him back into work for the FBI.
Mathew is drawn to his neighbor's niece, Callie, who visits occasionally but is married and lives in California.  Callie's marriage to an arrogant alcoholic tests even her sweet, steadfast heart.  Soon she has to decide what is best for herself and for her daughter.
As the plot unfolds, Mathew is required to step up as the leader.  During his work to resolve cases against wily and dangerous adversaries, two criminals appeal to his innate goodness and sense of justice.  Mathew must balance pursuing a solution acceptable to the FBI while recognizing the realities of deal-making with known felons and their enemies.
Even while the path to his future seems blocked at every turn, Mathew must overcome his personal barriers and resolve dangerous situations.  Even with bullets whizzing around him, he travels to California, Paris, London and back to the United States.  Aggressive criminals challenge him and his team from several directions, endangering those he loves.
Mathew becomes a man who must assess himself in the mirror and decide if he can fill his expectations for himself without disappointing his country, his friends, and his new found love.
Nominate this book on Kindle Scout.
Book Links
Website
Facebook
Twitter
LinkedIn
On Kindle Scout
Amazon author Page
On Amazon
More Great Reads: