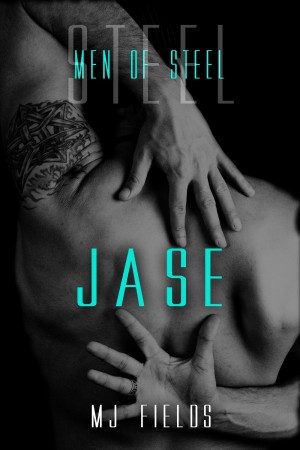 Jase (Men of Steel) : MJ Fields
Jase: Steel Brothers – A Family Affair (Men Of Steel) (Volume 1)

I sat in my room at our family's tattoo parlor, Forever Steel staring at the phone. I hadn't stopped looking at the picture of this crazy, quirky, insanely beautiful blonde haired blue eyed siren that invaded the Jersey Shore a month ago.
Carly Smythe was not my type at all. She was a twenty year old student at Stanford University in California, smart as hell, and funny. The shit kicker was she was so awkwardly unaware of what any man with pulse could see, and that was that she was a damn heartbreaker with a body that made me hard the very first time I saw her.
She made me crazy, she snuck out to see me, and then avoided any sexual advances I made on her, until I finally kissed her, and I didn't wait for an invitation either: I took those pouty little lips and made them mine.
Carly was also an avid reader of those books, you know "Mommy Porn." So my game had to be stepped up. Who the hell am I kidding? She could see through my game immediately, and it didn't have the same effect it did on every other girl I hooked up with. And she didn't go running for the hills, either. I fell hard… and fast.
Abe (her cousin) knew all the shit that had gone down in my life for the past five and a half years and in order to make this work, which I wanted it to… I needed to set the record straight, put it all on the line, give her the 411, and let her decide if after everything, she still wanted to give it up to a guy like me. A tattooed, pierced, f-up, with a past that was sure to send any girl into a tail spin. She was not any girl, she was…different.
Book Links
Facebook
Twitter
Goodreads
Amazon Author Page
On Amazon
More Great Reads: