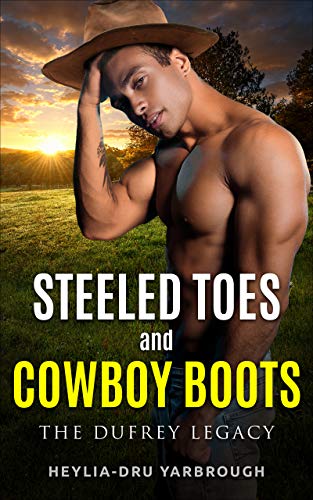 Steeled Toes and Cowboy Boots : Heylia-Dru Yarbrough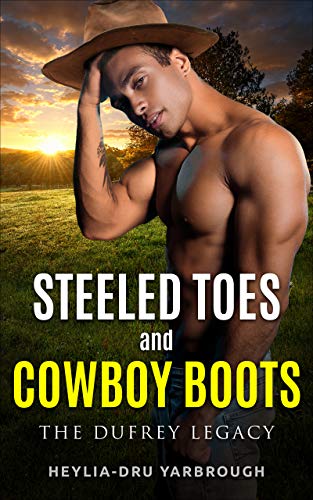 Ex-bull rider turned rancher Jaffery Dufrey has never hidden the fact he comes from a long line of outlaws and lawmen. But the thing he's most proud of is being part of a dying breed – the African-American cowboy. His focus is on Sweet Briar, a working cattle ranch that has been in the Dufrey family for generations, and Sanctuary, the forty-five acres of Sweet Briar land dedicated to providing a haven for at-risk youths.
Jaffery spends time working with the kids sent to Sanctuary, teaching them self-worth through training them to become competition riders who compete in the amateur rodeo circuit is something he's passionate about, and educating them about black cowboys' place in history.
Jaffery is approached by his Crawford about leasing one hundred acres of Sweet Briar land to Willard Gas for use as underground storage for natural gas, but he doesn't trust Crawford's explanation that an arrangement with Willard Gas would be good for Hallowell's economy and has no intentions of deeding as much as a clump of dirt from of Sweet Briar's over fifteen hundred acres to Crawford, but he's still willing to give Willard Gas's engineer and opportunity to explain the process of natural gas storage to him. Jaffery should have known given Crawford's flexible morals, Crawford would play dirty and shouldn't have been surprised when Willard Gas sent the beautiful Ms. Harvey as their representative.
Texas transplant Engineer Michal Harvey isn't looking for love, not after the fiasco of her last relationship sent her running from Texas to Georgia, and shouldn't have been surprised that the rugged rancher, could not hide his surprise that she was female. After all, industrial inspections in the oil and gas industries is a male-dominated field. But she was not here with an ax to grind, make friends or impress the local bull-riding demi-God. She was here to convince him to do business with her company Willard Gas and make a name for herself in the STEM field.
But being around Jaffery is easy. Falling into a friendship feels organic and natural. Communication is fun and funny. And the heavy undercurrent of desire sizzling through their friendship does nothing to stop her from enjoying spending time in Jaffery's company, learning about his work with his kids and the community.
Michal never counted on the hunky, laid-back cowboy, and the more time she spends with Jaffery, whether at the ranch, exploring downtown Hallowell, going to the rodeo, or overnight camping with him and the kids, the more she sees his fun side and her attraction to him grows. She just hopes he never finds out her boss pressed her into spending time with him because he needs Jaffery focused on anything but the contract she's supposed to get him to sign with Willard Gas.
However, a fire that destroyed the family church and an attempt to set fire to Sanctuary's dorm leads Jaffery to find out about Crawford's duplicity and Michal's supposed role in all of it, resulting in a breakdown of their budding relationship, which will take work to rebuild and make their journey will be wilder than eight heart-stopping seconds on the back of a thousand-pound bull.
Book Links
On Amazon
More Great Reads: