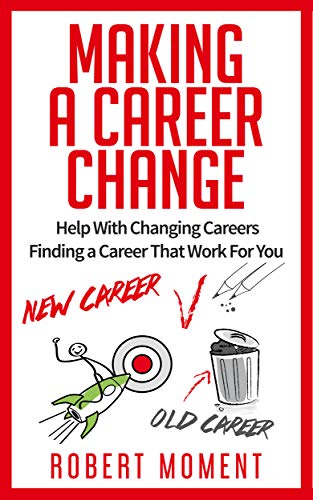 Need a career change but not sure where to start?
If you're in need of career-changing advice, then let experienced job search coach Robert Moment guide you with this powerful handbook. Robert understands that taking the leap into a brand-new career can be terrifying, but he wants to show you that foraging a new path in life can be rewarding and revitalizing. Let him inspire you to change your life for the better!
Take the FREE Online Career Change Assessment found inside Amazon Book FREE CHAPTERS and receive your Career Change Score.
It's time to make a career change!
Making a Career Change: Help With Changing Careers Finding a Career That Works for You will teach you:
• How to determine the career you really want.
• Powerful mindset strategies to overcome fear and inner resistance to a career change.
• How to find happiness and create career opportunities on your own terms.
• How to create a career change plan that guarantees a smooth workplace transition.
• The powerful job search strategies that will help you land your dream job.
…And MORE!
What are you waiting for? Buy this handy guide and start on your new career path today!
Robert Moment is The Get Hired Expert and Job Search Strategist. He provides specialist job coaching to ambitious professionals looking for a competitive edge.
Get a Job Quickly After 50: 18 Ways to Find a Job You Love That Work by Robert Moment is also on Whizbuzz Books.
Book Links
Website
Linkedin
Amazon Author Page
On Amazon
Making a Career Change: Help With Changing Careers Finding a Career That Works for You : Robert Moment