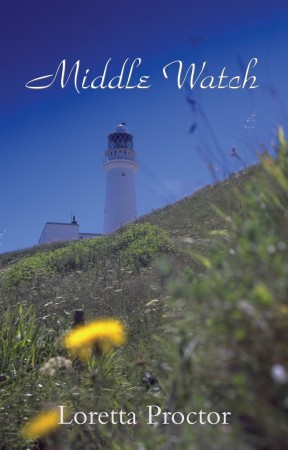 Middle Watch : Loretta Proctor
Middle Watch
Haplessly orphaned at birth, Bridie was adopted by a kind-hearted naval officer, Joe Bosworth. But with Joe frequently away at sea, Bridie grew up under the cruel rod of his jealous wife and sons. Desperately seeking sanctuary, she follows Joe when he leaves his family to become a lighthouse keeper.
Drawn to the jagged coastline by her freedom-loving spirit, she takes to clambering along the wild and lonely peaks. It is in this untamed haven of turbulent waves and lashing winds that she first meets Ryan, the silent and enigmatic son of a lighthouse keeper. Immediately drawn to Bridie's solitary beauty, Ryan falls deeply in love with her. But their blossoming romance is cut short when Ryan is forced to depart for military service. He leaves Bridie with the promise that he will one day return to marry her.
But Ryan is not the only one who has intentions for Bridie. Her scheming foster-brother, Jim, reappears on the scene to discover that in his absence Bridie has grown into a beautiful, innocent young woman and his intentions are far from honourable.
In the blackest hours of the night, the middle watch, can Bridie bring her soulmate safely back into her arms or will dark jealousies forever destroy her heart's desires?
Book Links
Website
Blog
Facebook
Twitter
Amazon Author Page
On Amazon
More Great Reads: