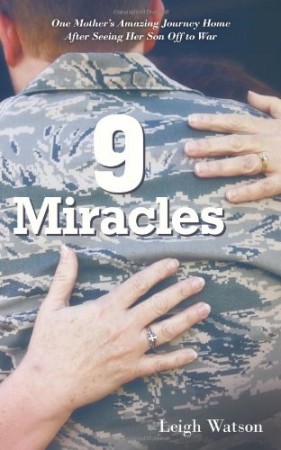 9 Miracles : Leigh Watson
9 Miracles
A short and easy read, 9 Miracles is the inspirational, TRUE story of the 9 extraordinary things and incredible people I encountered, on MY way, to and from Florida, seeing my son off to Iraq. It's not my son's story, it's MINE.
#1 happened on my way going TO Florida, the other 8 things happened on my home and #9 will KNOCK YOUR SOCKS OFF – – but you can't look ahead! The first time, it must be read in order! As the Chapters unfold, together with the Conclusion, the life lessons learned can be applied to ANY age and ANY life's difficult circumstances.
This isn't a military book, nor a Mama's book. This inspirational book is about hope and encouragement and the realization that God cares and we are never alone when we are going through our darkest hour. HE will provide the strength you need when you have none left on your own. How God's grace is overflowing and His mercies unlimited!
After the first time (reading it in order), feeling a little lost and blue today? Got 5 minutes? Pick it up – read ANY Chapter and be instantly lifted!
Available through my website, www.9Miracles.com with 3 versions to choose from, softback, e-book or audio book. I'm the one reading the audio book. Yes, that is my Texas accent. 🙂
I hope you enjoy it and that it touches you. It was written/read with love. 🙂
Book Links
Website
Twitter
On Amazon
More Great Reads: