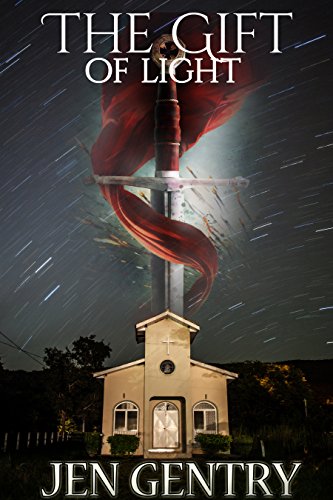 The Gift of Light : Jen Gentry
The Gift of Light
Emily and her Aunt Gemma are two very special women. They see into the spiritual realm and commune with angels. With this exciting tale, reminiscent of the great Frank Peretti's This Present Darkness, debut author Gentry portrays in realistic terms the angelic and demonic creatures who inhabit our world, and why. A centuries-old battle, waged in the heavenly realm between the forces of good and evil, is fast reaching a flashpoint in Hook Pond.
Demon Prince Azelius has a centuries-old stronghold over the family of Senator Brad Steel, whose goal is to become President of the United States, a goal Azelius wants him to achieve. Azelius wants the senator's son as well, but someone is praying and interfering with his plans. That someone must be silenced, permanently. When young Bradley Steel finds the Lord, he goes through a profoundly life-changing experience. He is overwhelmed with the need to ask forgiveness for an adolescent transgression that has haunted his life.
Marta forgives him and promises forgetfulness as well. They become friends and eventually fall in love and marry. Bradley goes to Afghanistan as chaplain and is critically wounded in an explosion, but a pregnant Marta is told of his death. With the presidential election drawing near, Senator Steel makes his bid, and threatened with exposure of past misdeeds including adultery and kidnapping ending with murder, he utilizes his demonic connections to summon the Ba'al and a shaman priest. A spine tingling ending that will have you cheering.
Book Links
Blog
Twitter
Goodreads
Amazon Author Page
On Amazon
More Great Reads: