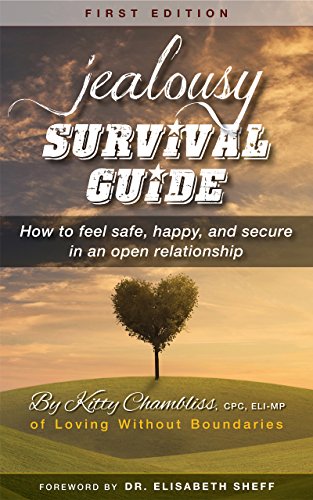 Jealousy Survival Guide : Kitty Chambliss
Jealousy Survival Guide: How to feel safe, happy, and secure in an open relationship
Jealousy can have an enormous impact on some people, so it is no surprise that people (especially those who practice consensual non-monogamy) think, talk, and write about it quite a bit. In "Jealousy Survival Guide", Kitty Chambliss does the homework for you and collects the best tidbits on life and emotions to give you inspiration and provide tools to gain and practice new skills.
Combining her own life experience with these pearls of wisdom, Kitty focuses on jealousy in consensually non-monogamous relationships, what it is, how it expresses, and specific ways to manage it.
Kitty's frank discussion of her own struggles with jealousy and focus on specific skills and techniques — without a shred of blame — makes "Jealousy Survival Guide" a delightfully useful read for anyone struggling with jealousy or consensually non-monogamous relationships and polyamory.
This is a comprehensive guidebook and step-by-step template for recognizing feelings of jealousy and insecurity as they come up with effective tools for sorting through those emotions, and when, if, and how to bring up challenging or potentially emotionally charged conversations with loved ones.
More Great Reads: