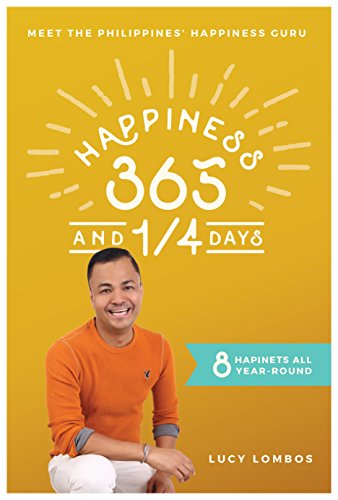 Happiness 365 and 1/4 Days : Lucy Lombos
Happiness 365 and 1/4 Days
You must have heard a thousand times that happiness is a choice but have you known anyone whose life revolves around this liberating idea?
Did his story inspire you to follow his path of happiness and transform your life?
Jimmy Belleza, the Philippines' very own Happiness Guru, chooses to live this way 365 days a year. He rose from abject poverty and became a successful entrepreneur, radio anchor and sought-after public speaker.
Lucy Lombos, a talented children's story writer and a dear friend of Jimmy, made it one of her life's missions to share his marvelous story. This mission came to fruition in the pages of Happiness 365 and ¼ Days– a book that shares valuable insights that you can replicate to achieve your own kind of happiness.
No matter what life challenges you're navigating right now, you will be inspired by the principles of happiness that greatly influenced Jimmy's life known as the 8 HapiNETS. They enable you to catch joy and optimism to turn your life around. Sounds like a plan, right?
If life is tough, always choose happiness and be a ray of sunshine so others can do the same. It's exactly why Lucy wrote this book –to spread happiness so you can catch it.
10% of the sales of Happiness 365 and ¼ Days will be given to Child Haus Foundation so we can take care of the children with cancer in the Philippines. Grab your copy today and catch the overflowing happiness that spills out from this book and spread it far and wide!
You can get your paperback copy for only $6.50, and the Kindle Edition for only $2.99.
Book Links
Website
Facebook
Amazon Author
On Amazon
More Great Reads: