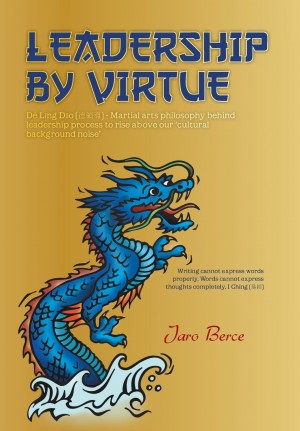 Leadership by Virtue
The book Leadership by Virtue is written as a novel following the daily life of a CEO who accepted the challenge to merge two companies. The book uses provocative approaches to reorganization in order to successfully merge the companies. The older telecom company still majors on older technology (like landline phones) and is staffed with long term employed people that do not adapt to changes as quickly as the younger generation of the other company does. Many issues and problems arise from this particular difference between the two companies.
In the book different settings are also well intertwined. We follow this manager at his office, martial arts practice as well as in the private life at home, where he and his pretty much supportive wife »wrestle« with their teenager son who is immersed in modern technology. While practicing martial arts the main character learns concepts and many secrets of Far East mentality through his mentor, Shifu, and it is where from he takes his unusual insights, approaches and solutions to apply them at his business.
The book, therefore, is not just a simple fiction novel, it is an eye opening and challenging, it provokes thinking and is altogether a tremendous learning experience of a substantially different approach to the leadership. An exceptional presentation of how to blend the eastern and the western practices and thinking for improved and more successful leadership process. If you are involved in any kind of a leadership, the book is a must read, although it proves to be a good read sitting next to a fireplace, too.
Book Links
Website
Facebook
Twitter
Publisher
Amazon Author Page
On Amazon
Leadership by Virtue : Jaro Berce