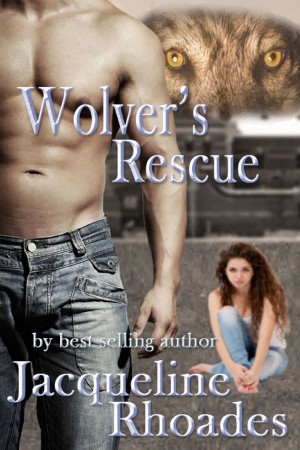 Wolver's Rescue : Jacqueline Rhoades
Wolver's Rescue
Sometimes it's not the wolves that pose the danger…
There's a downside to living in a secret society. Someone has to ensure it remains that way. 'Bull' Bulworth is that someone. His current assignment: track a young man who has an unrecognized wolf inside him and eliminate the problem before the truth about Wolvers is exposed to the human world. It's a simple and straightforward assignment until he meets a woman who makes him think crazy might be contagious.
In her own words, Tommie Bane is nuttier than a pecan tree. There's a voice in her head telling her she is something other than human, and a creature she swears is running around inside her body. Just when she's at the lowest point in her weird and nutty life, she meets a man who tells her it's all real. Should she listen to the voice of reason or to the voice in her head that keeps shouting "Mate"?
What do you have to lose when you've already lost your mind? For Tommie, it could be her life.
Book Links
Facebook
Twitter
Goodreads
Amazon Author Page
On Amazon
More Great Reads: