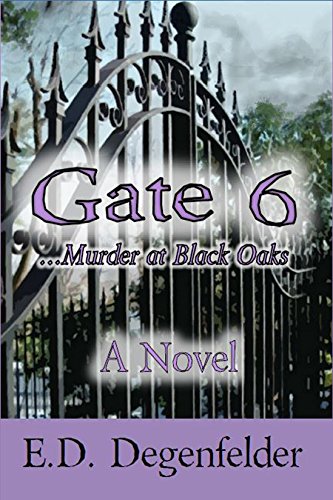 Gate 6: Murder at Black Oaks : E.D. Degenfelder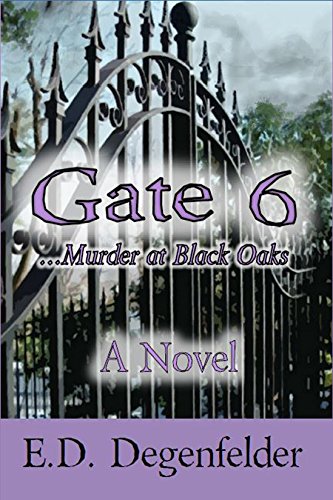 Madeline Abbott's life is once again thrown into chaos and disaster as she becomes the prime suspect in a gruesome murder.
Madeline learns Black Oaks, the derelict coastal mansion she inherited, may not be hers due to a bizarre legal mix-up. Her attorney investigates, but she is slammed with more shocking news: her ex-husband, David, has been released from jail and is suddenly missing. Unbelievably, Madeline becomes the prime suspect in a grisly murder. She and detectives Cooper and Morales are thrust into a complex game involving Madeline's ex-husband David Dean, someone claiming ownership of Black Oaks, and a brutal assault.
Rumor has it, there a long lost cache of gold hidden at the mansion. If so, why has it never been found after decades? Is someone willing to kill to find it? Then something unforeseen puts Cooper and Madeline's fragile relationship in jeopardy. Will Madeline have to face the danger lurking in the shadowy hallways and murky rooms of the old house … alone?
Gate 6 … Murder at Black Oaks is the second novel in this exciting trilogy by E.D. Degenfelder. A suspense-filled thrill ride of murder and mayhem that brings back characters Madeline Abbott, Detectives Scott Cooper and Isabelle Morales. This book is the second in this series, however, each book is a stand-alone novel with no cliff hangers.
Unkindness Of Ravens, the first book of Evan's trilogy, is also on Whizbuzz Books.
Book Links
Website
Facebook
Twitter
Goodreads
Amazon Author Page
On Amazon
More Great Reads: