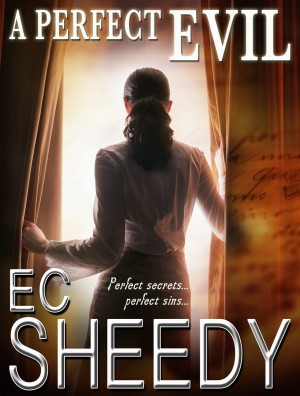 A Perfect Evil : EC Sheedy
A Perfect Evil
Old sins leave lasting scars…
Hannah Stuart thinks she's safe within the dark and private rooms of Kenninghall, her friend Milo's rambling and secluded Washington estate. Here she hides from the outside world, nurturing her depression, and lost in a past and painful tragedy she can't let go. To hold on–to survive–she lives her days by rote, each day the same as the one before.
But change, for good or ill, is relentless and inescapable.
Milo dies, leaving Hannah a fortune and three letters. Letters telling of old sins and ugly lies, now tangled anew in shocking depravities. Letters the rich and powerful will kill to suppress. Letters Hannah is driven and honor bound to expose–and time is running out.
When Milo's long-lost relatives and former business partners start showing up at Kenninghall, Hannah doesn't know who to trust. In desperation she turns to the mysterious Yates Lang.
Yates has the experience to help her, but he also has secrets of his own–and a dangerously compelling reason to destroy the letters.
He may be falling for the reclusive beauty of Kenninghall, but when love is twisted by existing loyalties, bad blood, and a perfect evil, it can get you killed.
Book Links
Website
Facebook
Twitter
Amazon Author Page
On Amazon
More Great Reads: