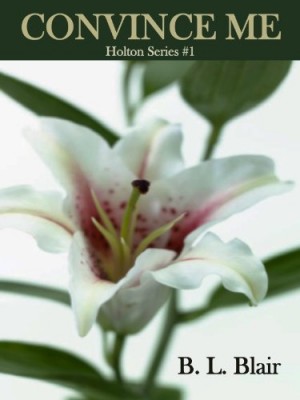 Convince Me : B. L. Blair
Convince Me (Holton Series#1)
A woman afraid of love.  A man searching for love. Convince Me (Holton Series #1) is the story of two people with opposite views toward love and forever after.
As the only child of a mixed race couple, Anna West watched her father abuse her mother all in the name of love.  She never wanted to fall into the same trap as her mother, loving a man who did not truly love her.  Anna didn't believe in forever. She moved to Holton, Texas to start over, to begin a new life where no one knew about her past, where no one cared about her parents.  It was the perfect situation until she met Steven.
Steven Carson spent his childhood in a secure, loving home where his father cherished his wife and his children. Steven wanted the same type of relationship his parents' enjoyed, a relationship with a woman who would love him as he loved her.  Steven wanted forever.  He had lived his whole life in Holton, Texas and never wanted to live anywhere else.It was the perfect place for him but he did not have anyone to share his life. And then he met Anna.
Come visit Holton, Texas to see if Steven can convince Anna to take a chance on him, to take a chance on love.
Notice Me (Holton Series #2) is also available.  Trust Me (Holton Series #3) coming October 2013.
Book Links
Website
Facebook
Twitter
Goodreads
Amazon Author Page
On Amazon
More Great Reads: