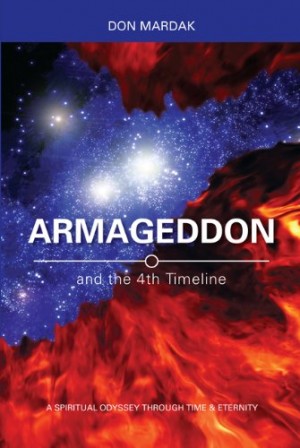 Armageddon and the 4th Timeline : Don Mardak
Armageddon and the 4th Timeline
"Armageddon and the 4th Timeline" is a riveting, multi-genre mystical fantasy that has three thought-provoking themes. The themes are: the war on terror (similar to a Tom Clancy or Vince Flynn novel), the teaching of spiritual principles (ala Richard Bach in "Jonathan Livingston Seagull" and "Illusions"), and all of that is set against a backdrop of time travel as you have never seen it before.
The book is a breathtaking thriller that recently has garnered four book-writing prizes. After being a finalist in the ForeWord Reviews Book of the Year Awards last year, "Armageddon" has just won the silver medal in two categories of the 2014 eLit Electronic Book Publishing Awards and a silver medallion in the recently concluded IBPA Benjamin Franklin Awards. It also has more than 110 five-star reviews, and the Kindle edition has been a #1 best seller in two genres.
Armageddon and the 4th Timeline, is a fast-paced adventure through time and space, as mankind faces the enormous specter of violent and cataclysmic annihilation.
We live in uncertain times. With the chaotic and rapidly deteriorating conditions in the Middle East, the underlying threat of nuclear proliferation and the potential spread of weapons of mass destruction exist throughout the world. Add to that a collective consciousness that doesn't always agree on religion and the nature of existence, and you have the potential for conflict ending in disaster.
In the story, the United States' military and intelligence communities pull out all stops in an effort to prevent a nuclear holocaust while one man—encouraged by his enlightened Tibetan Master—strives to rise above this arena of conflicting forces. Can he find a place in the past where altering a key event could change the future and prevent Armageddon?
Here are typical comments by the numerous readers and reviewers:
"One of the best books I've ever read!"
"Beyond excellent!"
"Incredible from start to finish."
"It doesn't feel like just a book, but a new scroll of some kind."
"I'm Speechless!"
"Impressive one-of-a-kind tale."
"Thrilling like a roller-coaster ride with many twists and turns."
"Mind-altering!"
"Awesome … in the true sense of the word."
"Absolutely brilliant"
"Wow! What a fantastic book!"
"If you read one book this year, make it this one."
As one reviewer stated, "A thrilling ride from the first page, Armageddon and the 4th Timeline has definitely set the bar in its genre. It is thought provoking, entrancing, and filled to the brim with gut-wrenching and hold-your-breath events.
Armageddon and the 4th Timeline is a must read for Truth seekers and those who have been searching for answers to their most basic question about life and the nature of ultimate reality.
Book Links
Website
Blog
Facebook
Twitter
Amazon Author Page
On Amazon
More Great Reads: