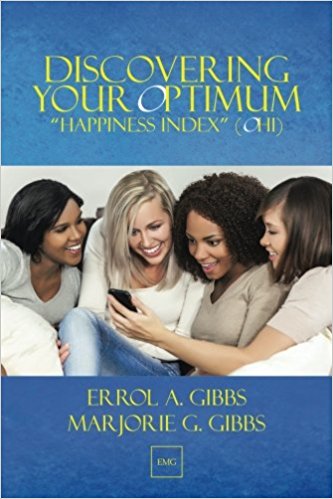 Discovering Your Optimum Happiness Index (OHI) : Errol A. and Marjorie G. Gibbs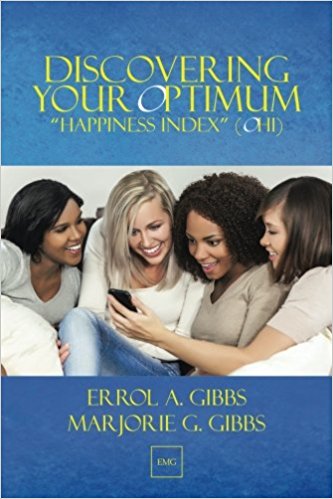 (A Self-Directed Guide to Your Happiness Index (HI) (Including Questionnaire and Self-Improvement (SI) Templates)
INSIGHT AND ACTIONABLE STRATEGIES FOR AN OPTIMUM HAPPIER EXISTENCE
What is happiness and how do I get it? There is a lot of information out there on the topic of happiness, especially as happiest nation and happiest state polls have become a bigger part of the international conversation about happiness and well-being. There is now a revolutionary resource with an insightful hypothesis supported by detailed research that analyzes what happiness is. Discovering Your Optimum "Happiness Index" (OHI): A Self-Directed Guide to Your "Happiness Index" (HI) by Errol A. Gibbs and Marjorie G. Gibbs offers interactive strategies that guide the reader towards identifying and achieving their happiness goals.
The authors offer an innovative perspective on the pursuit of happiness in a compelling narrative that profoundly addresses the questions we all have about happiness and fulfillment. A timely and relevant encapsulation of the multi-faceted dynamics encountered in one's search for happiness, the book is destined to influence contemporary writers, researchers, visionaries, and great thinkers. "We focused our attention on events that alter human condition from perspectives of happiness and unhappiness."
Errol A. Gibbs explains: "Events such as engagement, marriage, education, graduation or career, contribute to the social, economic and material well-being and happiness. Likewise, events such as marriage breakdown, financial failure, unemployment, or a major illness can contribute to unhappiness. Marjorie and I introduce the OHI project to the world to fill the gap in knowledge about happiness." The authors assert that happiness is not merely a lifestyle, but that optimum happiness, underpinned by joy, is a higher value proposition for human survival, as a viable species than our typical notion of happiness.
Irrespective of your upbringing and experiences, we hope that this book will become your constant companion as you strive for Continuous Self-Improvement (CSI) and growth in areas that rob you of happiness, which is your birthright (spiritual, inherent, and constitutional). Marjorie and I have concluded from our religious teachings that happiness was central to the creation mandate, hence our "social and emotional interdependence."
Women have a unique role to create the ecosystems (spiritual, moral, social, intellectual, and physical) that sustain "joy" and "happiness" in human lives. Women also have the capacity to empower the world through leadership in various fields of science and technology previously dominated by their male counterparts. Women lead unified by "heart" (soul) and "head" (intellect) with "empathy" and "authenticity," and with "athletic" (physical) and "academic" (educational) prowess. Women have the capacity to imbue happiness in the lives of their partners, their children, their communities, and the world. A true measure of human progress, though, is the status of women as co-equals, co-partners, and co-owners, working together with their male counterparts to create a happier and healthier world for the present and future generations.
We also bring to the attention of readers excerpts from the works of thought leaders, philosophers, researchers, and writers who inquire about the correlation among faith, health, healing, and happiness. Institutions such as Harvard University, Harvard School of Public Health, and Mayo Clinic lead in research into the relationship between health and happiness. Likewise, researchers and professionals such as Gretchen Rubin, author of The Happiness Project, provide their relevant findings and perspectives on happiness.
"A potentially life enhancing, life changing read, "Discovering Your Optimum "Happiness Index"" is exceptionally well written, organized and presented, making it very highly recommended for personal reading lists, as well as both community and academic library, Self-Help/Self-Improvement collections." – Julie Summers, Reviewer, Midwest Book Review
Book Links
Website
AuthorHouse
On Amazon Canada
On Amazon
More Great Reads: