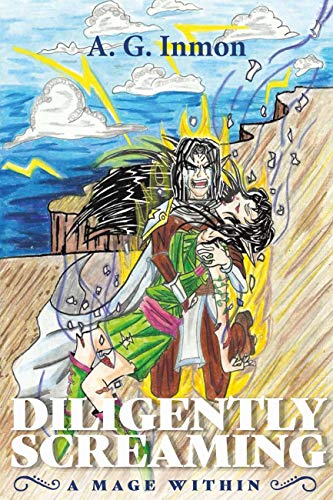 Diligently Screaming : A. G. Inmon
Diligently Screaming: A Mage Within
For 9000 years a great and terrible evil has plague the lands…
A boy charged with murder…
And a forbidden love…
Luminous, a half-Elf, and half-Human teen, finds himself thrown into a world of chaos and ruin, alienated by prejudice at every turn. Infatuated by an elven maiden, Aurora becomes his only light, and shows him the path of a true mage.
An evil power is drawn to Tarethiel in search of a sacred jewel that holds untold power. Legions of troops descend upon the city and an epic battle ensues between good and evil. When the stone suddenly vanishes, a company of elves is sent in pursuit. Now Luminous and Aurora must fight their way through traps and a host of enemies as they track down the Legacy Stone and face Glanduil, a powerful sorcerer.
Travel through a fabulous world of genuine beauty and experience a wide range of emotions as you read an enthralling tale of love, loss, and triumph, as they battle with wild animals, monsters, and mages of all kinds. From feelings of excitement and affection, to shock, fear, and yes, even joy; you'll find yourself lost in the pages laughing along while embarking on splendid journey of hope and wonder.
More Great Reads: