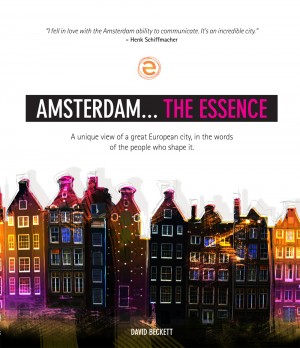 Amsterdam… The Essence : David Beckett
Amsterdam… The Essence
"Nobody wants to be labeled a tourist – whether you're visiting, or living in Amsterdam as an expat. This book gives you the inside story on why the city is so diverse and fascinating."
David Beckett, author.
Combining his own experience with that of a diverse group of creative locals, Beckett tells the story of Amsterdam in the words of the people who shape the city. Over 150 photographs bring the locals' stories to life. NOTE: an enhanced version of this book is also available for iPad, with 17 movies, 28 sound clips and 100 more photos than the print version: Check this version on iBooks and iTunes.
25 Amsterdammers share their experience of life in Holland's capital – including tattoo king Henk Schiffmacher; musical fashion superstar Bas Kosters; street artist Laser 3.14 ; former Mayor of Amsterdam, Job Cohen; founder of the Prostitution Information Centre, Mariska Majoor: comedian and columnist Youp Van 't Hek; Hollywood actress Halina Reijn; 'Mr Ajax', Sjaak Swart; rapper and artist Def P; singer/songwriter Lake Montgomery; and world famous shoe designer Jan Jansen.
Get the inside track on the most enigmatic city in the world by hearing what the locals have to say.
More Great Reads: