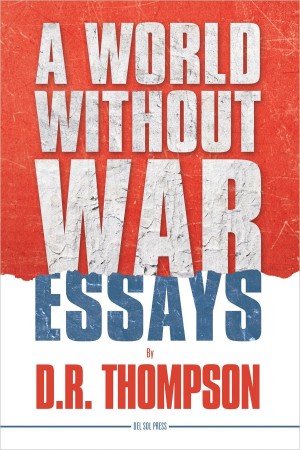 A World Without War : D.R. Thompson
A World Without War
Some books are read and easily forgotten. Others stick with you: you mull over what has been presented, digest the material for hours, days or even weeks. A World Without War is the kind of book that will stay with you and challenge your beliefs.
Written by award-winning producer and playwright D.R. (Don) Thompson, A World Without War is a compilation of his essays originally published on the WebDelSol media complex. During that time Thompson chronicled the U.S. and world situation post 9/11, looking at society and politics through the lens of a cultural critic schooled (at times self-taught) in an eclectic array of disciplines: film criticism, technology, the arts, history, business and philosophy. The result is a viewpoint that is at once unique, insightful and thought-provoking.
If you're open to changing your opinion, Thompson just might sway you. If not, he can help start a conversation on topics not often discussed or explored. His style is at times confrontation, his wit at times acerbic. While you shouldn't be surprised if he outrages or angers you, bear in mind that underlying all of the material are these questions: How can we create a better world? How can we create a more free, peaceful and prosperous world? How can we create A World Without War? These questions, Thompson feels, are ones we should all be asking.
Book Links
Website
Publisher
Reviews
Amazon Author Page
On Amazon
More Great Reads: