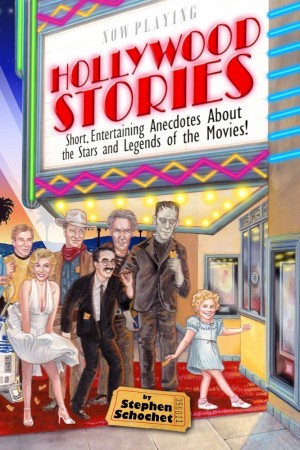 Hollywood Stories : Stephen Schochet
Hollywood Stories features an amazing, all-star cast of legendary Hollywood characters and icons, past and present, that will keep you totally entertained! Full of funny moments and twist endings.
"A WILD, FUN RIDE THROUGH TINSEL TOWN, PAST AND PRESENT!" — JAN WAHL, KCBS AM/FM & KRON-TV
Just when you thought you've heard everything about Hollywood comes a totally original new book — a special blend of biography, history and lore.
Hollywood Stories is packed with wild, wonderful short tales about famous stars, movies, directors and many others who have been a part of the world's most fascinating, unpredictable industry!
What makes the book unique is that the reader can go to any page and find a completely engaging and illuminating yarn. Sometimes people won't realize that they are reading about The Three Stooges or Popeye the Sailor until they come to the end of the story. The Midwest Book Review says Hollywood Stories is, "packed from cover to cover with fascinating tales."
Book Links
Twitter
Amazon Author Page
On Amazon
More Great Reads: