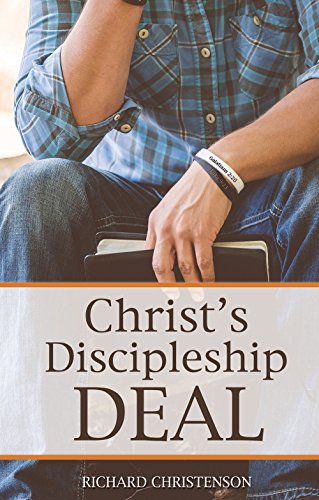 Christ's Discipleship Deal : Richard Christenson
Christ's Discipleship Deal
This book is about local church discipleship and leadership; two of my primary passions. In order to illustrate and apply the meaning Christ's discipleship deal to contemporary followers and churches, I will draw upon several sports and military illustrations from my personal experiences. I believe I am in good company and on firm footing here because the Apostle Paul, while writing much of the New Testament under the inspiration of the Holy Spirit, also utilized these types of analogies.
This book, that I believe the Holy Spirit has led me to write, is prompted by my concern about the vital important of local church discipleship training. Books recently written on this subject such as "Not a Fan" by Kyle Idleman, "Follow Me" and "Radical" written by David Platt, "All In" written by Mark Batterson, and "Multiply" written by Francis Chan, deal with some of the same concerns I share.
It is my contention that religious education, although commendable and valuable, is not in and of itself adequate to provide the level of training required to equip Christ's followers to live, love, and labor effectively. During my years of competitive athletics, there were times when I was required to study strategy, learn game plans, and sit in on chalk talks. My most valuable lessons, however, were learned on the practice field under the watchful eye of my coaches. According to the Word of God, learning requires doing and not just hearing. "Be doers of the word, and not hearers only, deceiving yourselves." James 1:22
If I was to ask championship coaches like Bill Belichick, Phil Jackson, or Tony La Russa what their game plan for success was, I'm sure their responses would differ. I believe their common elements, however, would be great players, proper preparation, and "all-in" participation. Championship coaches expect, and demand championship attitudes and effort by all team members. They also endorse and enforce the reality that whatever is expected must be inspected. I find that many local churches are not only failing to provide adequate discipleship training, they have no process in place to measure, evaluate, or improve the results they are currently receiving.
Jesus enlisted twelve followers and proceeded to properly train them. His results speak for themselves. I encourage you to take the time to read this book while carefully and prayerfully reflecting upon your current discipleship training process and results. I want to emphasize that this is not an attempt to throw stones or be critical. I love local churches and have the upmost respect for local church leaders. My only motive is helping us improve what we have been commission by Christ to do, while there is still time.
Book Links
Website
Facebook
Amazon Author Page
On Amazon
More Great Reads: