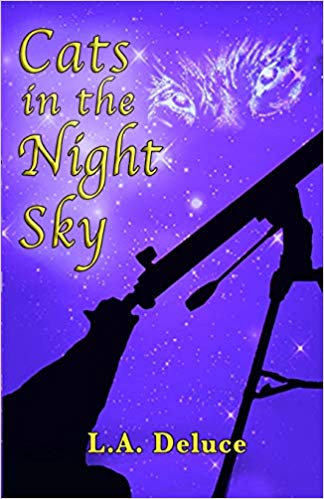 Cats in the Night Sky : L.A. Deluce
Cats in the Night Sky
A Vanished Kingdom,
a lost Queen and
a Missing Star!
The Adventure begins…
The Kingdom of Mattimy and its grand observatory lie in ruins, destroyed by a dark and violent force – all its people forgotten long ago.
With the help of her telescope and her love of the stars, Olivia is determined to find out if the legend of its terrible end is true.
When she sets out on a forbidden journey up to the towering peak she unearths priceless treasures and dangerous secrets but doesn't realize she's also reawakened a slumbering, sinister power.
Will the curse strike again and doom the quiet village that now lies peacefully beneath the hill?
As Olivia and her trusted friend Jacy struggle to discover the truth behind the legend of the mysterious lost Queen of Mattimy they find themselves in a race against time and the stars themselves.
Book Links
Website
Facebook
On Amazon Canada
On Amazon
More Great Reads: