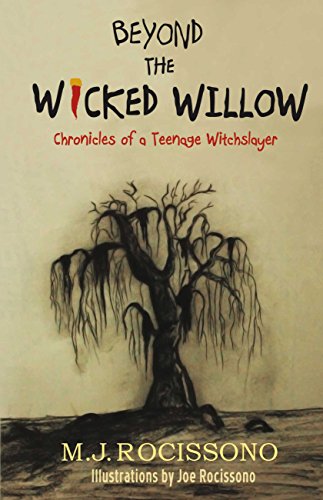 Beyond the Wicked Willow : M.J. Rocissono
Beyond the Wicked Willow: Chronicles of a Teenage Witchslayer
Frankie Fretini has had a horrible year.
And, just when he thinks things are looking up, well…all heck breaks loose.
It happens in home-ec class just moments after the girl of his dreams, Jenny Moran, invites him to the annual town carnival.
Still dazed from the unexpected invite, Frankie accidentally plasters the face of school bully, Brick McDuddy, with a giant scoop of chocolate mousse. Embarrassed, and fuming mad, Brick plots to deliver his painful revenge at the carnival.
When Frankie, and his pals, Sam, Beef, and Bookworm show up to meet Jenny, Brick and his nasty bootlickers, Harold "The Horrible" Dunson and Billy "Scat" Pile, chase them into the eerie tent of an old Gypsy fortuneteller named Mala.
Trapped with nowhere to run, Frankie makes a pact with Mala not knowing that he and his pals would be swept through her crystal ball to Medieval Italy.
Now, their only hope to return home rests in Frankie's hands. He must kill the evil Italian witch, Il Strega Diavolo, and rescue Mala's twin sister, Tsura.
But, can Frankie find the courage to face the Strega?
More Great Reads: