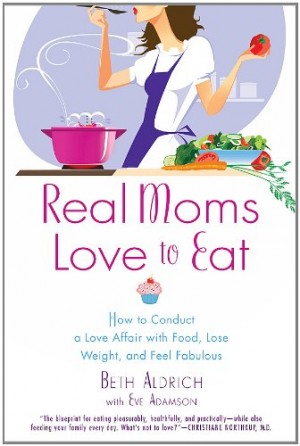 Real Moms Love to Eat : Beth Aldrich
Real Moms Love to Eat: How to Conduct a Love Affair with Food, Lose Weight and Feel Fabulous
Real Moms Love to Eat: How to Conduct a Love Affair with Food, Lose Weight and Feel Fabulous is the perfect handbooks for moms who truly, love to eat. Beth Aldrich takes the reader by the hand to discover how cultivate health and happiness in their families by first focusing on themselves.
REAL MOMS LOVE TO EAT is a refreshing healthy eating and book complete with innovative assignments, useful explanations, and careful guidance that focuses more on what can be added to a diet than what should be taken away. This book will provide the tools needed for moms to feel more energetic and still look great in those skinny jeans! Weight loss is the perfect side effect when you eat pure, wholesome food.
Beth's book takes the boring out of eating and incorporates more fun in daily meal planning with a 10-week plan that allows busy moms to eat what they like, lose weight, and still look amazing.
Book Links
Website
Facebook
Pinterest
Amazon Author Page
On Amazon
More Great Reads: