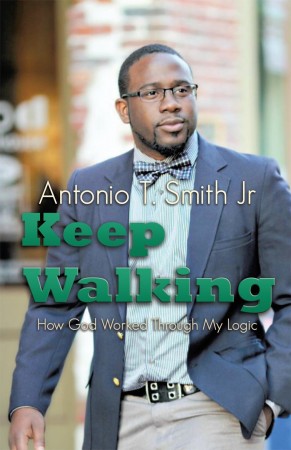 Keep Walking : Antonio T Smith Jr
Keep Walking focuses on God having a relationship with Smith's logic, when he never knew who or what He was.
He was not raised in the church, and when he found himself homeless at the age of six, he created thirteen rules for himself over time that would eventually lead him to God and greatness. He raised himself, and spent many years sleeping in a dumpster not too far from his neighborhood. He never knew what church was; therefore, did not have a relationship with God.
However, when he decided to think his way out of a horrible situation, which honored God, He blessed Smith by creating a relationship with his logic. Similar to the man on the cross next to Jesus, it was not baptism that saved him, nor was it joining a church. It was a positive change in his thoughts when he did not know Him at all, which allowed God to look in his direction and save him.
Smith believes God still lives inside of his thirteen rules of logic, and he believes even stronger, anyone who reads these rules will be extended the same courtesy from God. Yesterday he was an unpopular homeless kid; today he is a well-known Pastor. All because Smith decided to think, and God decided to bless what he thought.
Book Links
Website
Facebook
Twitter
Amazon Author Page
On Amazon
More Great Reads: