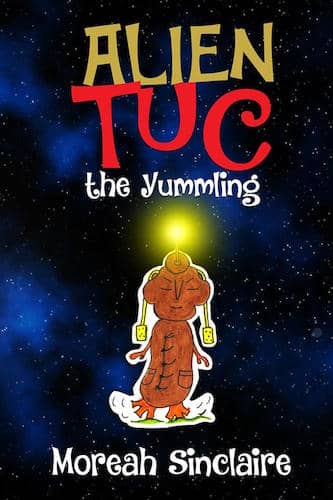 ALIEN TUC, the Yummling : Moreah Sinclaire
ALIEN TUC, the Yummling
ALIEN TUC, The Yummling, is a story about ALIENS, CLIMATE CHANGE, and CHOCOLATE! And, it's also about friendliness and kindness, even toward aliens!
It is a delightfully illustrated storybook for kids ages 6 – 11, who are curious about aliens. I, myself, was not a believer in aliens until one day my 10-year old granddaughter invited me to her pretend slumber party. At first, I said I was too shy and wouldn't know anybody there. She assured me that as well as cool boys, there would be friendly aliens. So, I agreed to go. I thought if 10-year olds believe in aliens, they must be real. And so, as I let my imagination go, this story came to me. A cute, friendly little alien in the shape of a kidney bean appeared on the page. His name was TUC and he was from the planet YUM.
Why TUC comes to Earth will surprise you. He comes in search of chocolate! On his planet chocolate is not eaten. It is used for building material! On YUM they have been mining chocolate from underground caves and building their dwellings with it. But lately climate change has happened. Their planet has moved closer to the sun and now their chocolate homes are melting. More chocolate has to be found! And so, alien TUC comes to Earth and tries to steal all of Earth's chocolate!
Meanwhile, little Jenna, holding her Stuffie, quietly watches everything from beside the cornfield. TUC is eventually captured by the Chocolate Police and forced to surrender all the chocolate he has taken. It ends happily as the friendly Chocolate Police decide to give him gifts to take back to YUM; gifts which will help the Yummlings repair their melting homes. And Jenna gives him a special gift, too.
Advance Review:
Moreah Sinclaire has a terrific imagination, telling the story of a young alien from the planet YUM visiting Earth to look for a special ingredient needed to save his own civilization:  Chocolate!  Children are sure to love this story, and there are wonderful illustrations to also stimulate little imaginations.  Let's just say this little book is a treat!
MS.
Advance Review:
This is a charming tale with lovable cartoon-like drawings to delight the imagination of a child who sees themselves in the story learning a bit about the universe. I like the idea of an opportunity to teach about kindness and understanding of those who are not like ourselves—important values in a changing world.
BB.
Advance Review:
Here's a book for children who need encouragement to read.  It has wonderful drawings to capture their interest and a text with real world ideas.
JC
Book Links
Facebook (author)
Facebook (book)
Amazon Author Page
On Amazon Canada
On Amazon
More Great Reads: