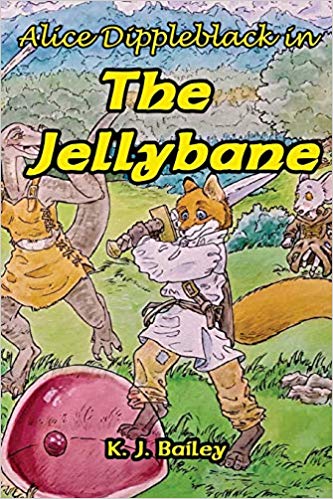 Alice Dippleblack in The Jellybane : K. J. Bailey
Alice Dippleblack in The Jellybane
Orphaned by the war still raging along the borders of Arsalia and rival Feoria, fourteen-year-old Alice Dippleblack fights battles of her own.
With the sword left to her by her father, the young Tokala faces the strange jelly monsters that emerge from the forest near her home to threaten the small village of Toki.
With the men still engaged in the conflict far to the west, Alice is the only defense Toki's residence have against the ravenous, gelatinous blobs. The intrepid monster hunter is just starting to find her feet when a run in with an unlikely pair changes her life forever.
Danahlia, a Cold Blood of Feoria trapped in warm blooded Arsalia has taken refuge in the jelly forest along with the escaped mage, Twinkaleni. Both seek to remain hidden from the war-torn world beyond the trees but are in desperate need of aid.
Risking the consequences, they enlist the help of a lone Alice, and in doing so, take the first step in beginning an eye opening journey of adventure, magic, and friendship.
More Great Reads: