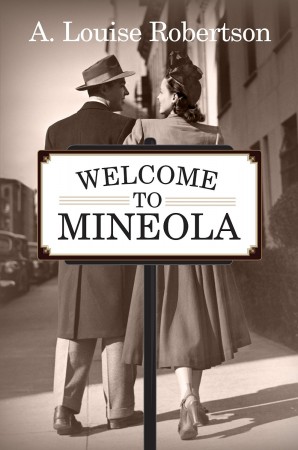 Welcome To Mineola : A. Louise Robertson
Welcome To Mineola

Rachel stands at the stove about to throw some spaghetti into a pot of boiling water. The radio announcer just said that there had been a horrible and bloody train wreck on the Long Island Railroad this Thanksgiving Eve, 1950. Matt and Tommy were planning to be on the evening train.
Before this day is over, Rachel faces an uncertain future, if she is able to keep from losing her mind. WELCOME TO MINEOLA spans the next fifty years of Rachel's life. The story is character-driven, told from the perspective of several key players as they "take the microphone" to share their perspective.
Rachel and Matt arrive in Long Island, after being reunited at the end of World War II. They participate in the neighborhood barbecues and card games typical of suburban living in the late 1940's.
While becoming part of this new lifestyle, Rachel finds that she misses the women in the city brownstone who sustained her during the war. She is devastated when one of them takes her own life.
She contends with suspicions of her husband's infidelity and is further challenged as she experiences the birth of her fourth child; her mother's death; her neighbor's shocking anti-Semitic behavior; and a dear friend's stroke.
Her children grow up and begin their own families, counting on Rachel's encouragement and support. The family matriarch is always there to lean on offering her sage advice and her continual strength and presence, until sorrow overtakes the celebration of the Millennium New Year's Eve.
Book Links
Amazon Author Page
On Amazon
More Great Reads: