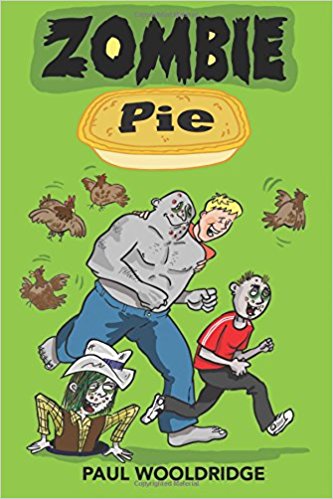 Zombie Pie : Paul Wooldridge
Zombie Pie
Zombie Pie is a children's novel that introduces you to a community of zombies that live underground in the sewer system beneath a small town.
As zombies normally have the reputation as being unpleasant creatures the characters in 'Zombie Pie' such as 'Zen', the main character and 'Cactus Kate' and 'Randle the zombie giant' are all portrayed as being rather endearing and colourful.
The narrative revolves around the disappearance of zombies from 'Zen's' sewer community and his adventure in finding out their fate.
Initially he seeks the help of 'Clem', 'Noah' and 'Eric', three boys who live in the town but who have a connection to 'Gregor' also known locally as 'The Meat Pie King'. 'Gregor' is 'Zombie Pie's' principal villain.
He own's the towns meat pie processing factory and it's his underhand business practise's that's linked to the zombies disappearing.
Zombie Pie is unusual in its portrayal of the zombie genre. The story depicts the zombie sewer dwellers as the main focus for the readers sympathies, with the humans as the main transgressor's.
Although dealing with obvious dark themes 'Zombie Pie' is written with a vein of light hearted humour running all the way through it.
The many imaginative illustrations add to the readers experience while reading 'Zombie Pie'.
Book Links
Website
Twitter
Amazon Author Page
On Amazon UK
On Amazon
More Great Reads: