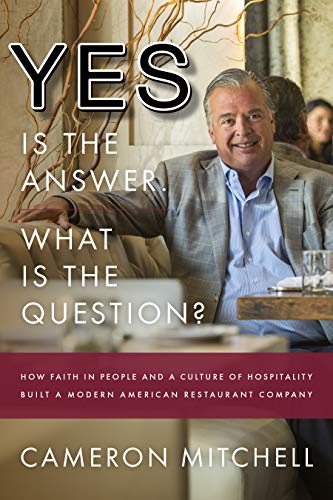 Yes is the Answer. What is the Question? : Cameron Mitchell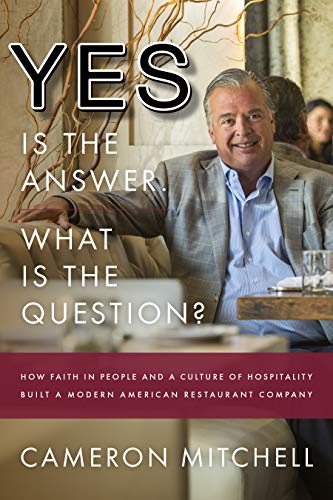 Free airline flights for an associate to spend time with her terminally ill sister. A manager who fires a customer for mistreating a server. Passing the hat to raise $20k for colleagues who lost wages after Hurricane Irma. Hourly associates who rave about how their company feels like a family.
These are real-life stories from a company that has built a wildly profitable business in the restaurant industry, known for quite the opposite – poor treatment of workers, high turnover, and high failure rates.
What makes this restaurant company so unique? And more importantly, what can business leaders in any industry learn from them?
Cameron Mitchell—CEO of Cameron Mitchell Restaurants (CMR) and Chairman Emeritus of the Culinary Institute of America—shares lessons for business leaders in his new book Yes is the Answer. What is the Question?: How Faith in People and a Culture of Hospitality Built a Modern American Restaurant Company (Ideapress Publishing; November 13th, 2018).
As companies in every industry face a culture crisis, Mitchell shares the key to his company's 25 years of success: a work culture where people feel cared for, valued, and which nurtures their wellbeing and greatness.
Against all odds, Mitchell went from a high school dropout and teenage runaway to a nationally-renowned restaurateur who sold two of his most popular restaurant concepts for $92 million. Today, CMR is celebrating 25 years in business, has 60 restaurants from coast to coast, employs almost 5,000 people, and generates over $300 million in annual sales.
According to Mitchell, the single most important factor in the company's success is its culture based on values that have been around since day one. They put their people first – in turn, their associates stay for 5, 10, 15, 20, even 25 years as proven by extremely low turnover rates, which are consistently well below national restaurant averages. They always prioritize culture over profit, and yet, their bottom line is higher than that of comparable companies.
With insights and retrospection, Yes is the Answer. What is the Question? reveals:
Cameron Mitchell's personal journey from a run-away, small-time drug dealer to a Culinary Institute graduate mapping his goals out at his mother's kitchen table, to going 14 months without a paycheck while starting "Cameron's", to now a successfully celebrated CEO
The cornerstones of CMR's success: the "51% culture, 49% profit" and "people-first" philosophies, and how they have helped the company weather difficult times and have led to some of the highest staff retention rates in the industry
Cameron Mitchell Restaurants' growing pains and rock-bottom lows, including difficulty raising capital in the early days, barely weathering the Great Recession, and a reckless expansion that nearly tanked the company
Mitchell's growth as a leader and steadfast commitment to training the next generation of leaders: including insight into creative training approaches to attract millennials, the importance of continuing education, how a culture of candor builds trust, and Mitchell's belief that you should empower every associate to think like an owner.
With engaging narration and practical business insights, Yes is the Answer. What is the Question? brings to the table lessons for entrepreneurs and CEOs alike.
Book Links
Website
Instagram 1
Instagram 2
Linkedin
On Amazon
More Great Reads: