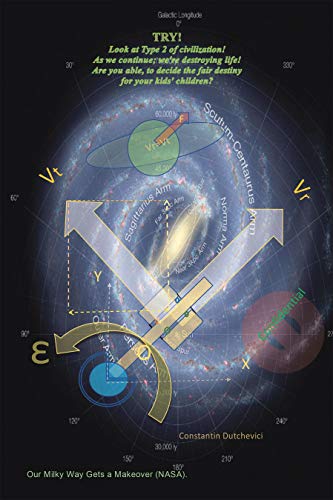 Look at Type 2 of Civilization! As We Continue; We're Destroying Life! Are You Able, to Decide the Fair Destiny for Your Kids' Children?
DANGER
Extermination of beings by pollution, insecticides, pesticides, mass deforestation, reduction of food and energy resources, water, military conflicts, epidemics, endanger life on Earth. Degradation increases with concern over time.
SOLUTION,
Development of new knowledge, applications, theories towards: short-term transport vehicles (Paris to N.Y. – 25 minutes; from Earth to Moon – 3 hours); efficient power generators, total depollution installations; and very important ETHICS "to keep in harmony all life on earth".
PREDICTIONS,
Predictions are made for: the past, present and future of humanity.
READER CONTRIBUTION,
He can contribute with thought, speech and deed. He can make his own scenario for his future.
If you are indifferent, heedless, do not engage in this evolution your future and your children will be hellish.
This codex should be in every house, initiation for the construction of heaven on earth.
Read and give to others.
Book Links
Facebook
GoogleBooks
Barnes & Noble
ThriftBooks
On Amazon Canada
On Amazon
Try! : Constantin Dutchevici