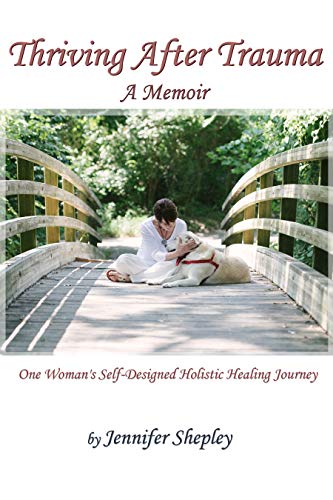 Thriving After Trauma : Jennifer Shepley
Thriving After Trauma
Jennifer Shepley was a young, poised professional who reveled in her orderly life until a series of traumatic events, including a shocking diagnosis, an imploding marriage, and the deaths of four family members sent her into a downward spiral that jeopardized her health, career, and relationships.
Jennifer's slide into a dark pit of hopelessness seemed endless, until the prospect of a fatal illness motivated her to fight for her life and, ultimately, take it back.
Choosing holistic healing over prescriptions, she used her education and experience in Integrative Nutrition, yoga, and other holistic modalities, to heal her body, mind, and soul, and create an amazing life from the bottom, up.
Thriving After Trauma is the inspiring story of a woman who revered control, and followed all the rules, until the accepted definitions no longer served her.
In this heart-wrenching, and heart-warming, memoir, Shepley brings to life her descent into darkness, and the incredible, self-generated plan that helped her climb back, hand over hand, into the light.
Jennifer Shepley is an Holistic Wellness Coach. Based on her own successful efforts, she created her premium program, "Holistic Healing from Trauma", to help other sufferers realize that they can thrive after trauma, and build incredible, fulfilling lives they never thought possible.
More Great Reads: