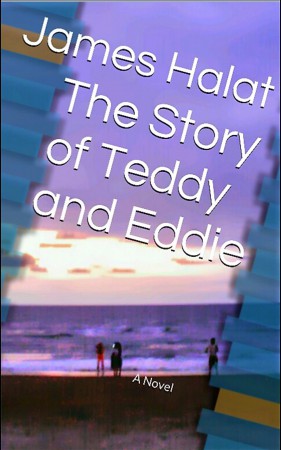 The Story of Teddy and Eddie : James Halat
"How does a 12 year old obtain a pint of whiskey?
He makes friends with the junior high school alcoholic."
Nino is an atypical child growing up in a conventional New Jersey suburb in the 1960s. By the age of 12 he carries a bottle of whisky in his backpack and spends his days studying boys from a distance. His only rule: Look but don't touch. Then, in a way peculiar to being adolescent, he falls into a routine of mild detachment that never quite feels right; it often feels good, but it never feels right.
Now, at age 20, and long settled in his ways, Nino is approached in the university library by a winsome looker named Aki. He suddenly finds himself looking for a place that isn't on any map, and wanting to go there.
Not knowing what to do, he turns to his best friends, Teddy and Eddie, for help. Thus embarking on a breathless joyride of the senses that, in the end, drops Nino off at his destination.
Compelling, sexually charged, and awash in anxious uncertainty, The Story of Teddy and Eddie follows Nino as he makes the terrifying choices no one should ever have to make, illuminating the indelible impact of childhood and memory on decisions so close to the heart.
Book Links
Website
Twitter
Amazon Author Page
Goodreads
On Amazon
More Great Reads: