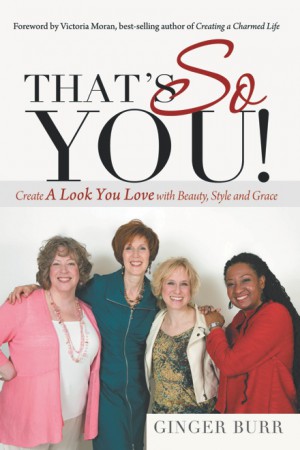 That's So You! : Ginger Burr
That's So You! Create a look you love with beauty, style and grace.
Have you ever gazed in the mirror and wondered, "What was I thinking? When there's always something that doesn't seem right no matter what you wear, you're left wondering if you don't shop at the right stores, if your budget isn't big enough or if you need the body of a model to look great. Often, you are lulled into dressing in clothes that cover your body but don't lift your spirits. All that can change right now!
That's So You! helps you create new awareness around the psychological aspects of how you dress, understand how to create a signature wardrobe that includes both comfort and beauty, make peace with aging and learn to do it with flair and confidence, so you can loosen these strangleholds on your personal style and create a look that makes your heart sing.
You will benefit from Ginger's years of experience as she guides you through taming your closet and addresses real-life fashion questions as you pull together a look that truly, down to your toes expresses who you are.
Then gazing in the mirror will simply be a reminder of what you already know in a genuine, heartfelt way: that you look great.
If this sounds familiar, the first step is learning how to reflect your inner sparkle—the part that makes you special—in the clothes you wear. From there,
Does it make a difference?  Here's what Kate Terry had to say: "My mother was visiting this past week and we were reading parts of your book together. We both agreed that it's brilliant!  I'm going to recommend it to all my friends." And, New York Times, bestselling author, Cheryl Richardson says, "When it comes to addressing the inner and outer obstacles that prevent women from feeling terrific about they look, there's no one more qualified than Ginger Burr. She is a fashion master!"
More Great Reads: