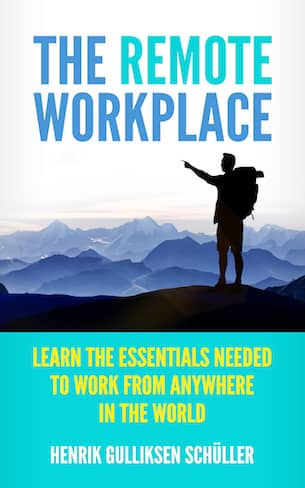 The Remote Workplace : Henrik Gulliksen Schüller
The Remote Workplace
​If you dream about the freedom to be anywhere in the world while still having a safe and enjoyable job then "The Remote Workplace" is the book for you.
​This concise eBook covers the essentials you need to become a digital nomad in just 50 pages. Giving you the opportunity to achieve your very own remote workplace.
In the book you'll discover the immense variation of remote work, and you'll find out how to land a remote job. There are a lot of sites out there claiming that they will help you find a remote work, and I've spent a decent amount of my time figuring out which ones really live up to this promise.
​
The book also covers tips and tricks on how to turn your current job remote for those that don't want to leave their current workplace. These methods are known to work and I've used them myself in my journey to find a desired work situation.
​
Self-improvement is something we all need and we are never done learning how to be a better version of ourselves. That is why we'll go through essential techniques to becoming a better and more efficient employee. Something that will both increase your value in the eyes of your employer and give you the ability to work fewer hours if you choose to.
Towards the end of the book we're going to talk about how you can get used to your new work situation, how to avoid feelings like social isolation and last but not least, my suggestions on how you can spend some of your new-found time.
The book consists of a combination of facts, real-life experiences and assignments. The book's assignments are crucial for you to acquire the remote workplace that you truly deserve, and I urge you to complete all of them.
In summation – the book will teach you:
Where and how to find remote work
How to turn your current job remote
Tips and tricks on becoming more efficient
Book Links
Website
Facebook
Linkedin
Instagram
Amazon Author Page
On Amazon
More Great Reads: