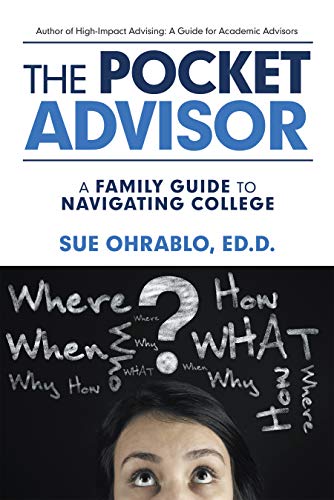 The Pocket Advisor : Sue Ohrablo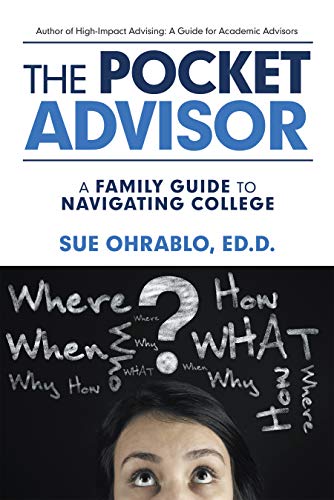 A Family Guide to Navigating College
Congratulations, you're headed to college! While it is an exciting time in your life, it can also be challenging to find your way around, learn what's expected of you, and connect with the people that can help and support you when you need it.
The Pocket Advisor: A Family Guide to Navigating College is a practical, easy-to-use guide for navigating college. Drawing on over thirty years' experience as an academic advisor, Dr. Ohrablo provides concrete tips on how to access the information, resources, and services you will need to be successful throughout your college career.
You will learn how to communicate using the language of higher education, understand who the key players are, and learn how to avoid and overcome challenges and obstacles that students commonly encounter. Included in the book are checklists and worksheets that will help you get oriented to your institution and will serve as valuable resources as you begin your higher education journey.
Students have lots of questions, and The Pocket Advisor has the answers! Included in the book are the following:
What classes do I need to take and how do I sign up for them?
How many courses should I take each semester?
What does the bursar's office do?
Where can I find my academic advisor?
What do my professors expect from me?
How do I connect with my professors?
What do I do if I run into academic or personal difficulty?
Dr. Sue Ohrablo has been supporting diverse college students (freshman through doctoral level) as an academic advisor, counselor, and professor for over 30 years. Through her extensive work with college students, she has developed an in-depth understanding of the questions students have along with the challenges they face. She has successfully partnered with thousands of students over the years, providing them support and assisting them in navigating the college experience.
In this book, Dr. Ohrablo has combined her own advising "must-knows" with her insider knowledge of how institutions really work to provide you with a comprehensive guide to finding your way through an often-complex environment. She is experienced in helping students to engage in academic planning, decision-making, and problem-solving while developing positive, lasting relationships with the students she has advised.
Professionally, Dr. Ohrablo is established as an internationally known expert in the field of academic advising and student services. The author of High-Impact Advising: A Guide for Academic Advisors, Dr. Ohrablo serves as a higher education consultant and trainer to institutions that wish to improve the quality of academic advising and support they provide to students.
Book Links
Website
Facebook
Facebook Group
Twitter
Amazon Author Page
On Amazon
More Great Reads: