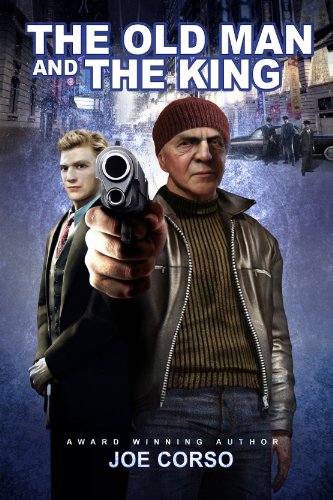 The Old Man And The King : Joe Corso
The Old Man And The King
Royal protocol dictated that the King exit the car last, but as the important man was about to emerge, a hail of gunfire erupted, spraying the royal Hummer.
"The Talvanian King watched in shock as, one by one, his car's occupants fell limp to the ground." Alone, in a foreign city, he seeks temporary refuge in the Good Burger diner.
Here he meets Lom, a Korean War vet, who misses his old life of danger and intrigue and who embraces the idea of hunting those who are hunting the King. Lom does so by, first, kicking ass and taking names, and second, by teaching the baby-faced King the ways of the street, battlefield style.
His written message is clear: "I HEARD YOU WERE LOOKING FOR ME. NOW I'M LOOKING FOR YOU!"
This action packed hunt for the assassins begins with the United Nations and takes us from Charlie's New York City pawn shop, deep into secret underground passageways, into hidden train stations and desolate warehouses, and ultimately to carefully orchestrated deals with jewel thieves and gun runners.
Things move along well until the heart-wrenching kidnapping. With the clock ticking against him, Lom must think quickly in order to save the life of the one he loves. Will the old man make it in time? Will the King live? Only time and his survival skills . . . will tell.
Book Links
Website
Amazon Author Page
On Amazon
More Great Reads: