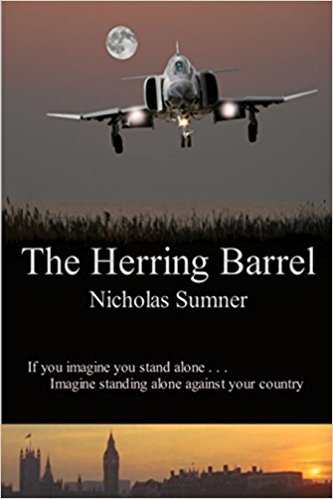 The Herring Barrel : Nicholas Sumner
The Herring Barrel
The Herring Barrel is set in 1969. In the UK there is country-wide dissatisfaction with the Government in office and an aeronautical industry in decline, let down by a disastrous series of political decisions.
The threatened cancellation of a successful military aviation project brings the situation home to two leading scientists. A Royal Navy carrier close to the end of a major refit is involved in a last ditch attempt to save the project. Following an incident at sea, their research aircraft missing, inconsistent attitudes at MoD Whitehall raise doubts, increased by the unknown whereabouts of their head of project. One ally in Whitehall, an important government advisor, encourages the scientists to take a journey in search of the facts.
The scientists find a tortuous route where nothing much can be taken for granted, eventually made aware they have a part to play in the conclusion of their journey, an intricate web weaved above their heads that entangles them inescapably alone and without assistance to call on until the trail leads back to sea in pursuit of their head of project. A French warship sails into a Mediterranean winter gale.
This is a tale of two journeys, the other revealed en route, their head of project's past previously unknown to them, his journey across a continent torn apart by the Second War, a first-hand account. The conclusion to their journey resolves in a meeting with a most prominent person, where they come to understand what has brought them there and why. The reason is significant; a potential consequence, the political destiny of their country.
Book Links
Website
Facebook
Amazon Author Page
On Amazon UK
On Amazon
More Great Reads: