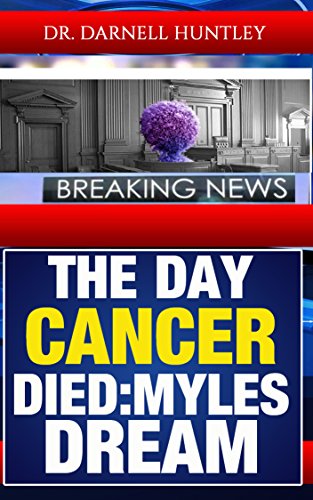 The Day Cancer Died : Dr. Darnell L Huntley
The Day Cancer Died : Myles Dream
One of the best books you will read this year!
Has your life been touched by Cancer? Do you have a loved one, friend, or just know someone who have lost someone to Cancer? Or maybe a Cancer survivor? Cancer hits close to home for many families across this nation and global territories. I lost my grandfather to lung cancer and my father is in remission from Prostate Cancer.
In this book, Myles experience the loss of two family members to Cancer. He petitions God for help. Cancer is illustrated through the form of a personality. Cancer reveals his mission and discusses his knowledge of the ongoing coalition to end his life. Cancer is put on the witness stand to answer why he seeks to pursue the lives of our loved ones. In the pursuit to cure Cancer forever one character discuss the steps she takes to avoid being defeated by Cancer. In the end, CANCER DO NOT WIN! In Myles dream he receives the answer many of us awaits to hear one day soon.
More Great Reads: