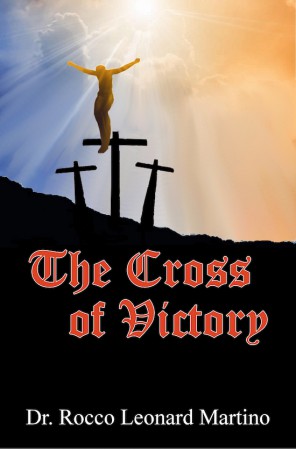 The Cross of Victory : Rocco Leonard Martino
The Cross of Victory
The objective of The Cross of Victory by Rocco Leonard Martino was to stress the fact that the crucifixion of Jesus was not the end, but only the portal to the resurrection which is the beginning. Jesus allowed Himself to be brutalized and to be crucified as a symbol to us of the meaning of His life.
He gave of Himself for us. His was the supreme sacrifice, not a failure, not a tragedy, but the opening to the resurrection which is the glorious conquest of death. The resurrection is the promise of eternal life for all of us.
The Cross of Victory is Dr. Martino's attempt to show the nobility of the character of Jesus and His divine nature, as the human nature was subjected to horrible torture. The climax of the crucifixion, of course, is the resurrection; which is the triumph over death.
The Cross, then, is a symbol of Victory—victory over death, victory over evil, victory over sin.  Hence, Dr. Martino thought it fitting to call this book The Cross of Victory.
More Great Reads: